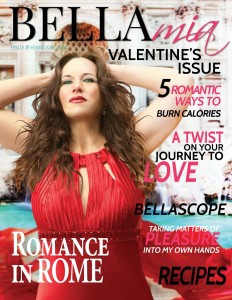 Ready to join the Beauty Revolution?
I was the first time I saw this magazine in January, I wanted to be a part of it.  Subscribed right away then investigated how I could contribute to their mission.
Mission: To change the lives of every person open to discovering their Soul's Purpose and living a life they didn't know was possible for them on an individual level.
A Magazine that speaks to the beautiful in all of us! BellaMia Magazine just released its Love issue in celebration of Valentine's Day and my article entitled Make it a great day is inside along with Suzanne Taylor, Andrea Allen, Kimberley Heart, Bonnie Gayle, Lorraine Cohen, Umoh Luna, Take a look and discover for yourself why thousands of women (and men!) love BellaMia! Click on the image to view. 
Bella Mia is here to inspire and embolden you to redefine your experience of womanhood and to put the word beauty back where it belongs: In your hands!
At Bella Mia, we don't simply believe every woman is beautiful, we know it deep in our bones. We want you to know it too, and to live it.
That's why Bella Mia is filled to the brim with articles that will spark your passion for yourself, challenge everything you have ever been told about being a woman, and give you the information you need to practice a whole new brand of self love with joy and pleasure.
Feeling blessed to be among esteemed women who are sharing powerful, important and impactful messages with the world. I hope that you enjoy my contribution – Make it a great day!
In this months edition, I share with you tips to increase your positive emotions by learning new positive psychology practices. Click on the image to view the mini-magazine which contains my full article and visit BellaMiamag.com to subscribe.