Create your customized marketing roadmap here with a powerful step-by-step business building program. Gain access to online business growth strategies 24/7 and tap into proven strategies to increase your revenue.
There are 5 key areas in your business that you need working in order to build a million dollar business and beyond. We are offering you a customized business advisory platform and meet you where you are to get you where you'd like to go. Every business needs a quick infusion of cash flow, especially now! Jump out of the gates quickly and begin producing new revenue immediately by implementing just one or two of our 10 Quick Start tactics. Each tactic was designed to produce $10,000 to $15,000 in additional revenue for your business in the first 45 days.
We offer a Customized Business Advisory Platform with a tier up payment plan to assist you at this time.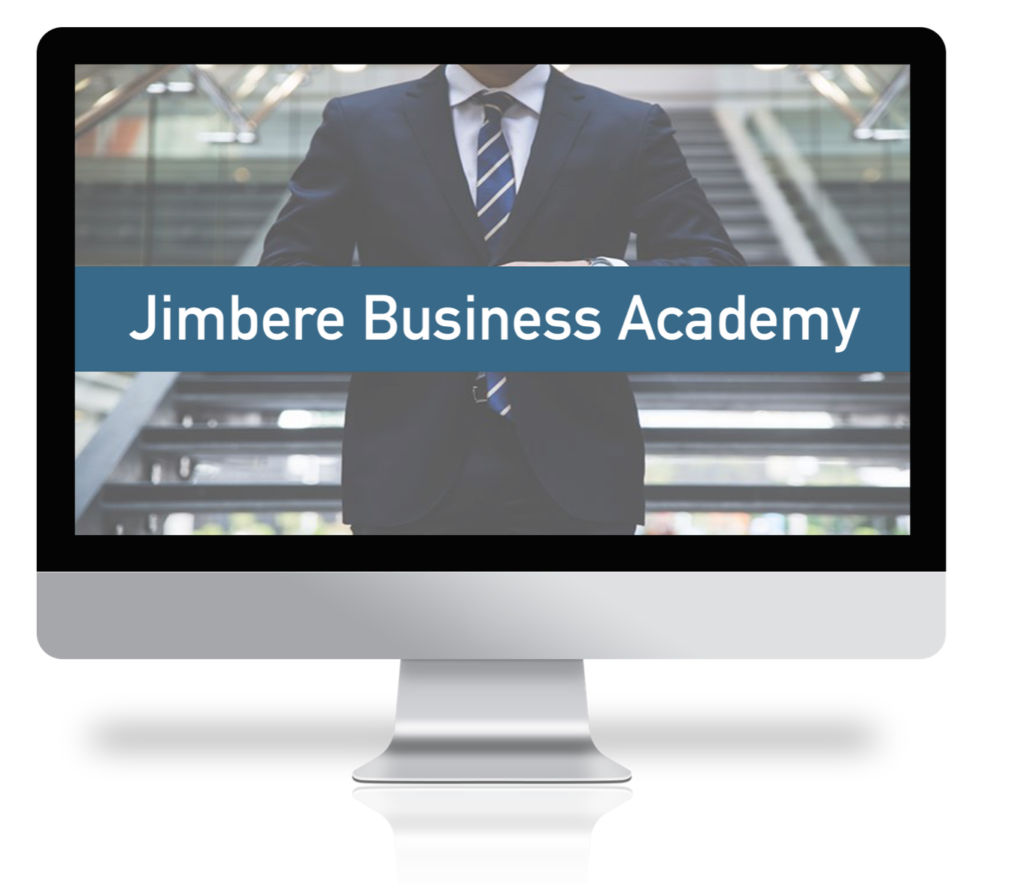 Your business is unique and so is the support you require to grow and scale your business. We all need support to help us create the right plan to get us to our goals sooner. To focus on the right lead measures and reach profitability.
Is your business New – 3 years in?
You are not sure how to create a revenue generating website, you'd like to know how to narrow down and decide on your ideal clients and you want to start out strong with a Market Dominating Position. You are ready to run a business, not an expensive hobby and you'd like professional guidance on how to start off soundly.

This is the Financial Foundations phase.
Gold Level Access to Jimbere Business Academy begins at $497/month and is a 12 month program.
Are you 3-7 years in business?
You want to ensure you have the right policies and procedures in place as you grow your business. You need a second opinion and confidant to ensure that your marketing is producing the ROI you expect and you'd like to learn proven strategies to save yourself time.
This is the Profit Accelerator phase.
Platinum Level Access to Jimbere Business Academy begins at $1297/month and is a 12 month program.
Is your business 7 years or older?
You are ready to attract the right leads and ensure optimal conversations. It is time to look at your pricing and profits to ensure all engines are firing on all cylinders and you would like to build a Million Dollar business.
This is the Growth and Scalability phase.
Private Level Access to Jimbere Business Academy begins at $1997/month and is a 12 month program.

If you are ready to admit that you don't need to know it all and would like professional help, learn more by visiting www.jimberebusinessacademy.com

Can your small business use an immediate increase in revenue and cash flow?

I want to help and am offering a special opportunity for you to join on-demand, 24/7 access to Jimbere Business Academy for only $297 for the first 3 months, normally $497/month. After 3 months access, this program designed to support your business growth over 12 months will be $497 a month. After 3 months of gold level access and once you've implemented the strategies, you may want to consider gaining access to coaching through the platinum or private level.
Check out everything included with access to Jimbere Business Academy!

Listen in as Jordan explains his experience in this video testimonial on how his business gained new revenue after only a few weeks inside the academy!

Your Biggest Risk Is Not Taking Action.
Gain access now for special introductory pricing for the first 3 months. For $297 + HST you get online 24/7 access to;
– Resources, videos and tutorials inside the Private E-Learning Business Academy
– 52-Week Business Fundamentals Training,
– 52-Week Personal Skills Development Program,
– Quick Start Revenue Generator,
– $1 M Marketing Library

Jordan and many others have gained new revenue, skills and confidence and you can too. Complete this form now to gain access to the ultimate business resource! We will reach out and show you the results that are possible when it comes to growing your business.
Are you tired of going it alone when it comes to building your business?
Do you spend countless hours attempting to generate leads, attract new clients and increase your revenue and profits… but see very little in the way of results?
Have you finally made the decision it's time to get help from true professionals who do this every day… do it successfully… and have a proven track record for making millions of dollars for businesses just like yours?
Coaching is NEVER an expense. It's one of the smartest investments any small business owner will ever make when it comes to building a successful business.

Jennifer Jimbere is the President of Jimbere Coaching and Consulting, Founder of Jimbere Business Academy (Gold to Private level access). Jennifer Jimbere is an entrepreneur, International best-selling co-author in the Dream Boldly I Dare You Series. World Class Coach and Business Consultant.
As well, she is a recognized authority on the psychology of performance, negotiations and organizational turnaround. She has served as an advisor to thousands of individuals and organizations around the world for more than 20 years. Jennifer has also been named Influence Magazine 100 Authority. Recommended and inducted into the Who's Who of America for 2019.

Don't delay, increased confidence, knowledge and revenue is waiting.
Maintain momentum and make it a great day!
PS, Be sure to join the 2476+ amazing professionals who are part of the JCC Facebook Community where you'll find a ton of useful insights, tips, and original content that is sure to help you succeed! Click here to join.