How would you like your business to generate a minimum of $1 million dollars per year?
OK… so how do you plan to accomplish this goal? Here are the startling facts you need to know…
Less than 3% of small business owners make more than $100,000 annually and less than one half of 1% ever reach $1 million dollars in total revenue
When you factor in a 30% profit margin on a million dollars in revenue, that only translates into an actual income of $300,000. And a big chunk of that goes to the government.
That's not much more than the business owner was making when they worked a regular job and didn't have all the worries and headaches they have now. And for those that do make $300,000 annually… they're in the top one half of 1% of ALL wage earners.
Most small business owners make far less than that, and have no clue how to make things better

YOU NEED TO HAVE A PLAN &YOU NEED TO FOCUS DAILY ON THE RIGHT TASKS, IN ORDER TO PROFIT. 🎯
What if we could hand you an entire series of strategies that have a proven and tested track record for generating million dollar businesses? Jimbere Business Academy will walk you, step-by-step, through the process required to build a multimillion dollar business.

First, we need to have a plan.
Change requires action.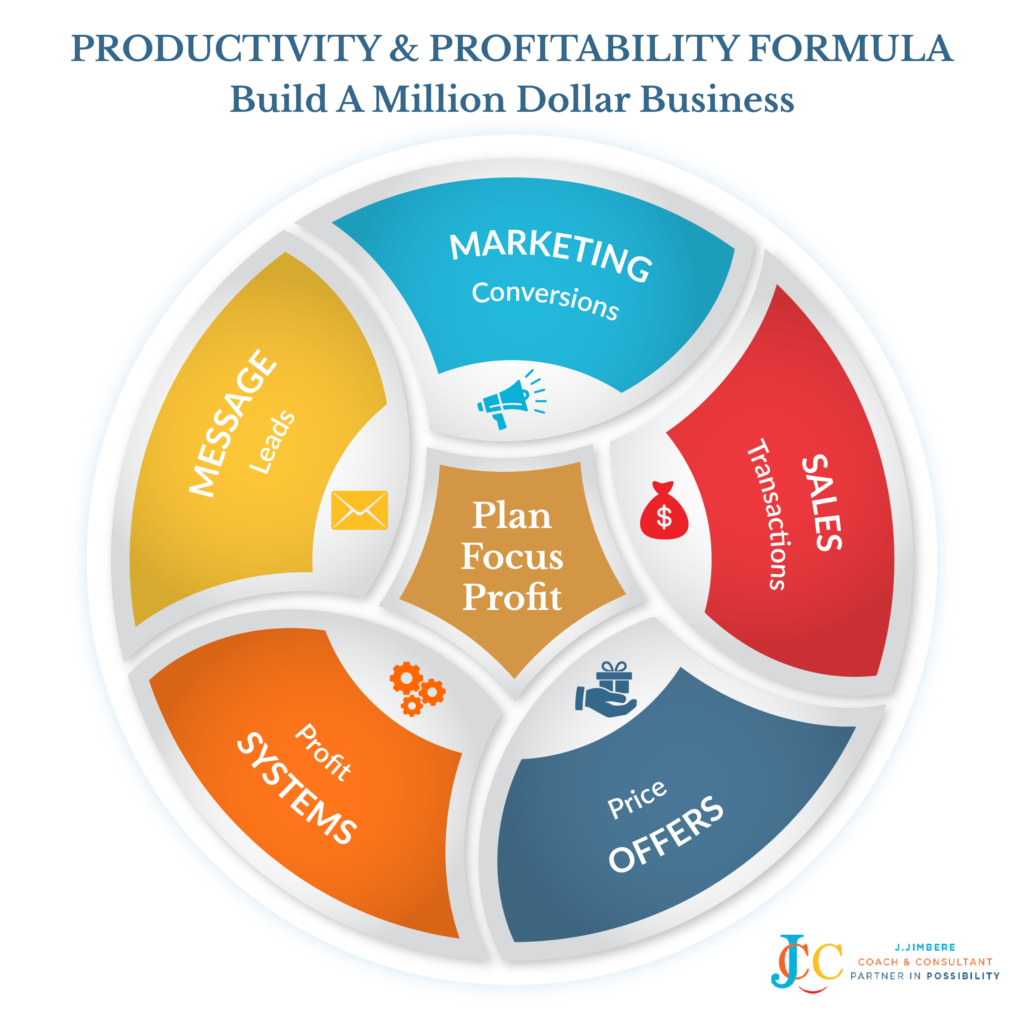 After years of working with professionals who were looking to get to the next level, I created the Productivity & Profitability Formula.
These are 1:1 implementation sessions.
1. Discover the formula and how you can leverage it, customized to your business.
2. Work on the 5 key areas of business growth, 1:1 with a business growth specialist.
3. Create your market dominating position.
4. Customize the 4 elements of an effective business plan.
5. Walk away from our time together with a plan you can execute on with excellence.
GET PERSONALIZED ATTENTION TO HELP YOU SUCCEED!
Partner with a proven professional.
Ready to increase your productivity & profitability? Join more than 100 5 ⭐️ Happy Clients!
Book in your 1:1 implementation session VIP Business Planning & Coaching Day today.
Jennifer Jimbere is an entrepreneur, International best-selling co-author of the Dream Boldly I Dare You series, World Class Coach and Business Consultant. A recognized authority on change management, profitability, and organizational turnaround, she has served as an advisor to thousands of individuals and organizations around the world for more than 20 years.
Her work can also be found on www.radicaljoyseekingwomen.com. Jennifer has also been named Influence Magazine 100 Authority. Strategic Learning Alliance recognized Jennifer as Certified Professional Coach of the Month for April 2019. Her work has been featured in The Six-Figure Coach, Simply Women, Bella Mia magazines and more.