My formal coaching and change management journey began in 2011. As a Branch Manager at the Bank of Montreal, we were asked to "Coach" our team as a part of our responsibilities. None of us knew what that meant. So, I took initiative, went out and got certified.

I had considered myself a good leader and had feedback that suggested the same prior to this formal learning. However, my situational leadership changed significantly with this new awareness and added skillset. I noticed a swift shift in my conversations on my team and a positive impact on the relationships and performance results.

This is when my passion for coaching was ignited and my mantra was created. "I believe that people are creative, capable, wise and good." It is also the time that I began coaching professionals outside of my formal corporate role evenings and weekends.

Coaching for behaviour change requires many skills including discovering possibilities and contextual listening in a session. Behaviour change refers to the transformation or modification of human behaviour, with a new or altered behaviour being the end-point of a behaviour change. This can have implications for what changes are desired and why and should be remembered throughout the coaching journey.

In 2013, I successfully completed a Change Management Foundation and Practitioner Certification. Adding to the skills that would support thousands in partnership on their priorities inside my corporate roles and in my private practice. As you may know if you have been following me for any amount of time, I am a never ending learner. Currently, I am working towards a Micro-Masters in Organizational Development and Leadership. As well as a Certificate in Diversity & Inclusion in the Workplace. I aim to always learn, grow and evolve.

Over the last 11 years in my private practice, I have been honoured to be a trusted confidant to support professionals who take their success seriously. To have been nominated and received awards. As a solopreneur to receive news that clients nominated me for the 2020, 2021 and 2022 RBC Canada Women Entrepreneur Awards presented by Women of Influence was such an honour. In 2021, I won the Oakville Beavers Readers Choice Diamond Winner for Best Business Consulting Service. It has been quite a journey! If you have ever taken the leap to be a business owner, you also know that it can be isolating. I have missed being a part of a team and leading a team.

We learn.
We grow.
We evolve.

I am proud to share with you my next step. I was recruited to be a part of leading Enterprise Change.
I have exciting news!!!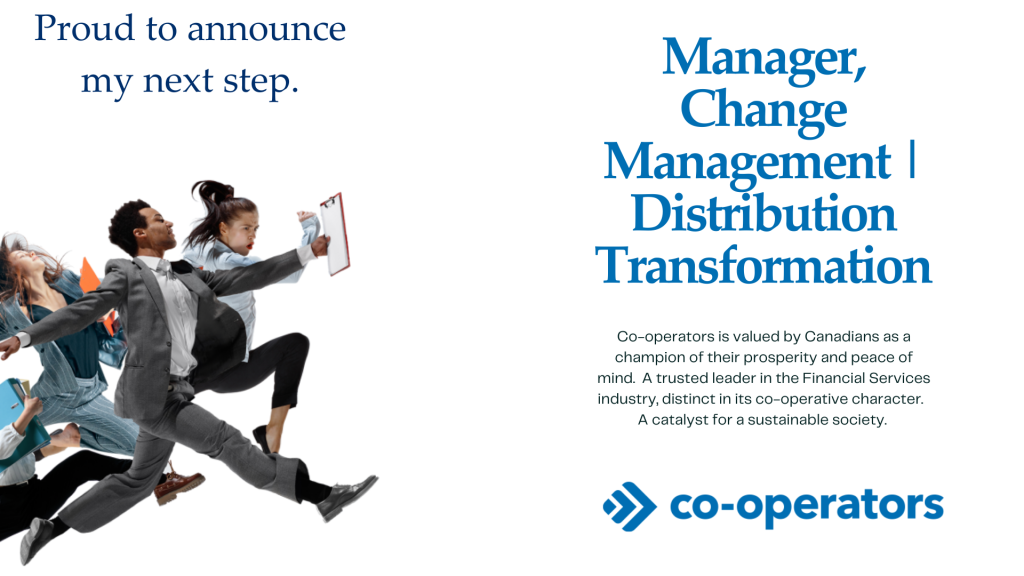 I am delighted to continue my growth and contribution in a new role at the Co-operators, a leading Canadian multi-line insurance and financial services co-operative.
As Manager, Change Management | Distribution Transformation, I will offer strengths-based coaching to a dynamic team of change and communication consultants.
In this role, I will:
Extend expert advice and guidance to executive teams, provide critical insights and engage in partnerships on transformational initiatives to support strategic initiatives.
Lead activities to build change maturity, including conducting analysis on the vast change portfolio and provide thought leadership on the latest developments, trends, and industry shifts.
Deliver desired business outcomes by building awareness, consensus and addressing concerns to support resolution.
Coach, develop, recruit, and build a team that is agile to deliver on strategic objectives.
Co-ops believe in sharing knowledge and best practices. Helping each other so we can help serve the clients who can benefit from our services. I have always been a collaborative contributor who believes in partnership inside my prior corporate roles and my coaching and consulting practice. In this next chapter, I bring a breadth and depth of experience and disciplines to contribute to journey mapping exercises to find pain points and explore how to surprise and delight clients inside one of Canada's greatest employers.

After 11 years and with more than 135+ 5 Star happy clients, Jimbere Coaching and Consulting services will now be available Tuesday & Thursday evenings 6 – 9 pm and Saturday's 9 am – 12 pm. Appointments will be limited.

I am forever grateful to the peers, leaders and clients who have shaped my journey so far.  The learning and experience over 17 years in Financial Services, 11 years as an entrepreneur and 3-time published author has helped me prepare for this next opportunity.  

If you are a change professional who may like to join me on this journey, follow along and stay tuned for exciting opportunities in the coming year(s). Join me in celebrating this next step.

To our collective success!