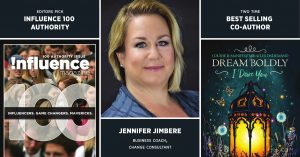 Influence Magazine 100 Authority
Business Coach, Change Consultant, Best Selling Co-Author
Jennifer Jimbere Named Influence Magazine 100 Authority
This past year I was honoured to be recognized as an influence Magazine 100 Authority for excellence as a Business Coach, Change Consultant and Best Selling Co-Author of "Dream Boldy – I Dare You".  I was recognized as an expert who has achieved a high level of success in her field. In the Influence 100 Authority article, I share a glimpse into the story behind my success.
To read the Influence 100 Authority article: https://www.influencemagazines.com/articles/jennifer-jimbere
About Influence
Influence celebrates ideas, authors, entrepreneurs and professionals from all walks of life and from every corner of the world. Also, Influence Magazine shares the story behind the story so readers go beyond knowing"what" a person does to "why" they do it.
Visit: www.influencemagazines.comContact: Sharon Ricci, Editor in Chiefsharon@influencefactor.ca
Moving Forward
It has been an exciting year with many changes.  As a result, my team is growing and that brings in new energy and additional expertise. I am now sharing regular weekly blog posts and our Plan To Profit Brief.  Additionally, if you'd like to sign up for my Newsletter where I share the best articles I find from around the world on Coaching, Change Management and The Science of Well-Being, sign up here > https://bit.ly/2kAmlFs.
Each week I'll share a few of my favourite items from industry leaders and respected professionals-including my very own colleagues, mentors, and friends!
What we think is possible is just the beginning.  I invite you to step into the world of possibility with me. I would love for more professionals to know they don't need to go this alone. Having a positive, knowledgeable and driven confidant by their side can help them to create a plan and show up consistently. I pride myself in supporting others to be more productive and profitable.
Jennifer now resides in Mississauga, Ontario, Canada. For any inquiries contact:
www.jimberecoachingandconsulting.com jennifer@jimberecoachingandconsulting.com
Maintain momentum and make it a great day.