Product bundling is a great strategy to use when you want to create additional value for your business. Product bundling is simply the process of grouping together certain products to create 'packages' which you then offer to your clients. If you're in a service-based industry then "discount books" do the exact same thing. At the heart of all value-added propositions lies the need to help make your clients' decision-making process easier.
Many people are very indecisive by nature and will often prefer not to make a decision at all rather than make the wrong one. Product bundling can help people make easier decisions. Consider these examples of product bundling to stimulate your own thought processes.
A dentist could offer 30% off a teeth-whitening program after each visit by a patient. A person is more motivated to buy this product having just gone through the physical and financial pain to have their teeth look great, and naturally they'll want to keep them looking that way?
A landscape gardener could offer a do-it-yourself garden maintenance kit after each job… including gloves, a spade, a rake, a broom, clippers, a compost bin and so on. This enables the client of the new garden to keep it in the same pristine condition. When added to the cost of the new garden, this bundled offer can be positioned to be a great investment.
What about a photographer? They could bundle enlargements, a photo album and a DVD of all the session photos taken. Customers are thrilled to receive this complete service and it gives them a permanent record on DVD for future generations.
A locksmith could provide an alarm system, roller shutters, a fire protection system, a car alarm, a personal attack alarm, exterior alarm warning signs and stickers and possibly an ozone detection system where appropriate. People often need a locksmith due to a break-in or fear of one, so why not offer them a 'complete home-protection package'. Some people will definitely say yes.
By the way, most locksmiths aren't qualified to install some of these types of high-tech systems. No problem… just joint venture with businesses that are qualified and work out a referral fee for driving qualified clients to them in droves. The locksmith can go ahead and sell the service as well as collect the revenue… then pay their JV provider the reduced fee.
Consider a home builder or remodeling contractor. If they build or remodel multiple homes every year (some builders construct more than 50 homes annually), they typically contract with suppliers and receive huge volume discounts. This is especially true for electronics.
Consider a builder or remodeler who agrees to buy multiple packages of a whole home entertainment and security system including a 42 inch HDTV, a complete high quality surround sound system, a complete home security system including surveillance cameras at all entry points to the home as well as a complete fire protection and monitoring system.
The retail price of this package would easily exceed $25,000 but the builder or remodeler could acquire them in volume for around $6500 since installation would not be part of their costs. Since the builder or remodeler will already have the home stripped to the studs, installation can be handled by their crew for pennies on the dollar.
Now imagine a builder competing with other builders in a moderately priced neighborhood. All the builders offer homes in the $550,000 price range. Our builder offers their home for $556,500 (includes the additional $6500 out of pocket expense to the builder) and it comes standard with a $25,000 home entertainment and full security system for FREE! Which builder would you buy from?
In fact, what if this builder offered that new home for $560,000? Do you really believe that additional $3500 would prevent anyone from buying this home? I seriously doubt it. And if it did, the builder always has the option of reducing the price. They could even maintain their original price of $550,000 and lower their profit margin on each home they sell. This would allow them to possibly double their normal sales volume and practically doubling their overall new profit every year.
The remodeler could use this same type of positioning for every remodeling job they bid on.
Hopefully by now you're starting to see the potential here. Make it easy for your clients to buy from you. Take away the barriers, bundle so much value into what you offer that it makes their decision a total no-brainer and you will see a huge difference… both to your business reputation and to your bottom line.

Book in now to have Java with Jen to discuss this strategy for your business. During this 2 hour paid coaching & consulting service, we will create a plan for your business and shift you from struggle to solution in this one area of your business. Have something else you are struggling with in one of these 5 key areas?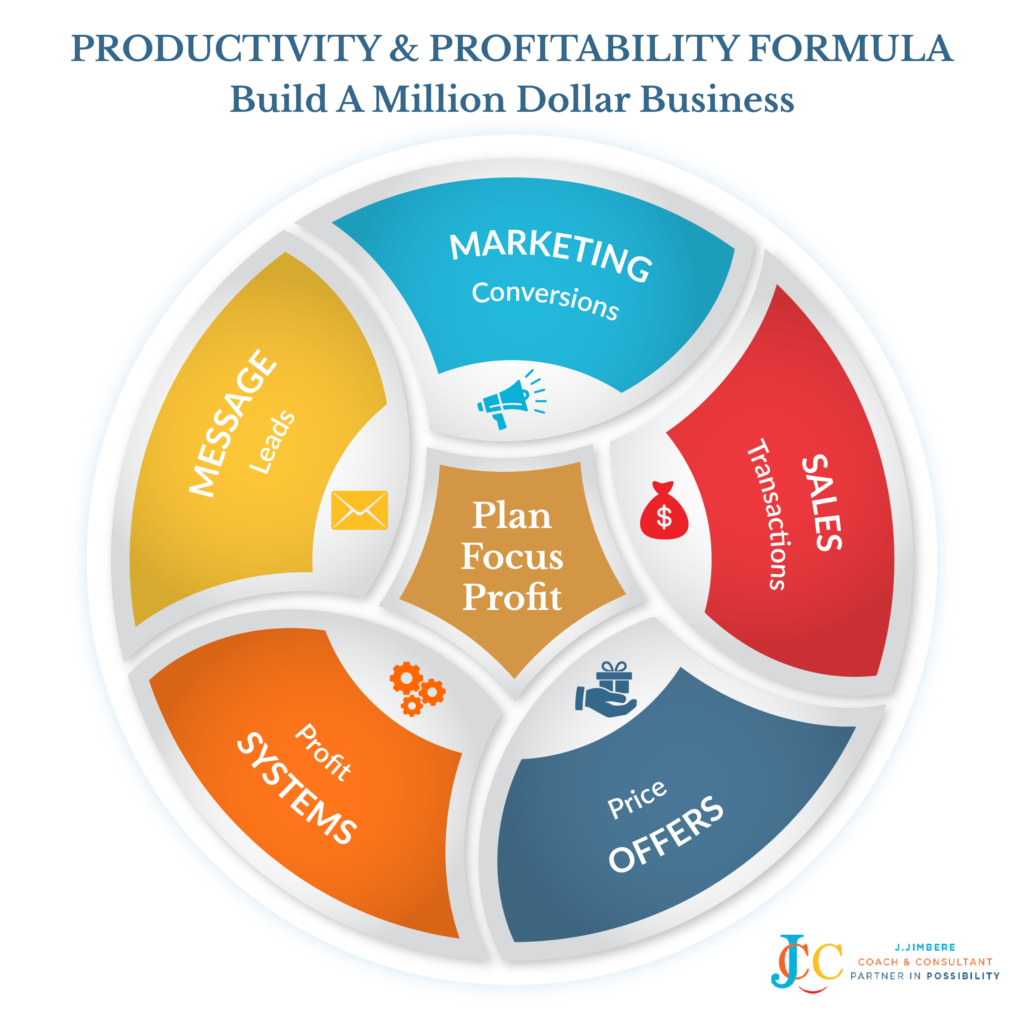 Let's shift from struggle to solution. Java with Jen is an opportunity for you to have a confidant to brainstorm and focus on one issue in your business.
What would it mean for your business to find a solution to a challenge you've been having for years?​






Looking for more personalized attention? Reach out so that we can discuss which phase of business development you are in. 
1. Financial Foundations
2. Profit Accelerator
3. Growth and Scalability
Ready to get started? Great, let's book in a Java with Jen session for 2 hours to shift you from struggle to solution in one area of your business.
Ready to increase your productivity & profitability? Join more than 100 5 ⭐️ Happy Clients!
Jennifer Jimbere is an entrepreneur, International best-selling co-author of the Dream Boldly I Dare You series, World Class Coach and Business Consultant. A recognized authority on change management, profitability, and organizational turnaround, she has served as an advisor to thousands of individuals and organizations around the world for more than 20 years.
Her work can also be found on www.radicaljoyseekingwomen.com. Jennifer has also been named Influence Magazine 100 Authority. Strategic Learning Alliance recognized Jennifer as Certified Professional Coach of the Month for April 2019. Her work has been featured in The Six-Figure Coach, Simply Women, Bella Mia magazines and more.