You want results for your time online and you know your business needs to be on LinkedIn, yes? It would be helpful if you knew how to and create an attraction marketing strategy.

Check out this Black Friday BOGO opportunity! Get access to my most popular course, LinkedIn For Business Growth and add on a personalized Java with Jen session for 50% off. If you are tired of going it alone and want a program and professional platform that works, this program is for you. LinkedIn used effectively will grow your business.

Learn and implement​ the strategies top professionals are using to grow their reach, positively impact their communities and engage more clients. LinkedIn For Business Growth is a 16-lesson, on-demand learning program I put together after successfully navigating the platform for 9 years. Learn proven strategies and create a client attracting profile on LinkedIn with this learning.

Pay $497 for the program and with this BOGO add on a Java with Jen for only $250 for a 2-hour coaching and consulting session. Java with Jen is normally $499 and so many have seen the benefits.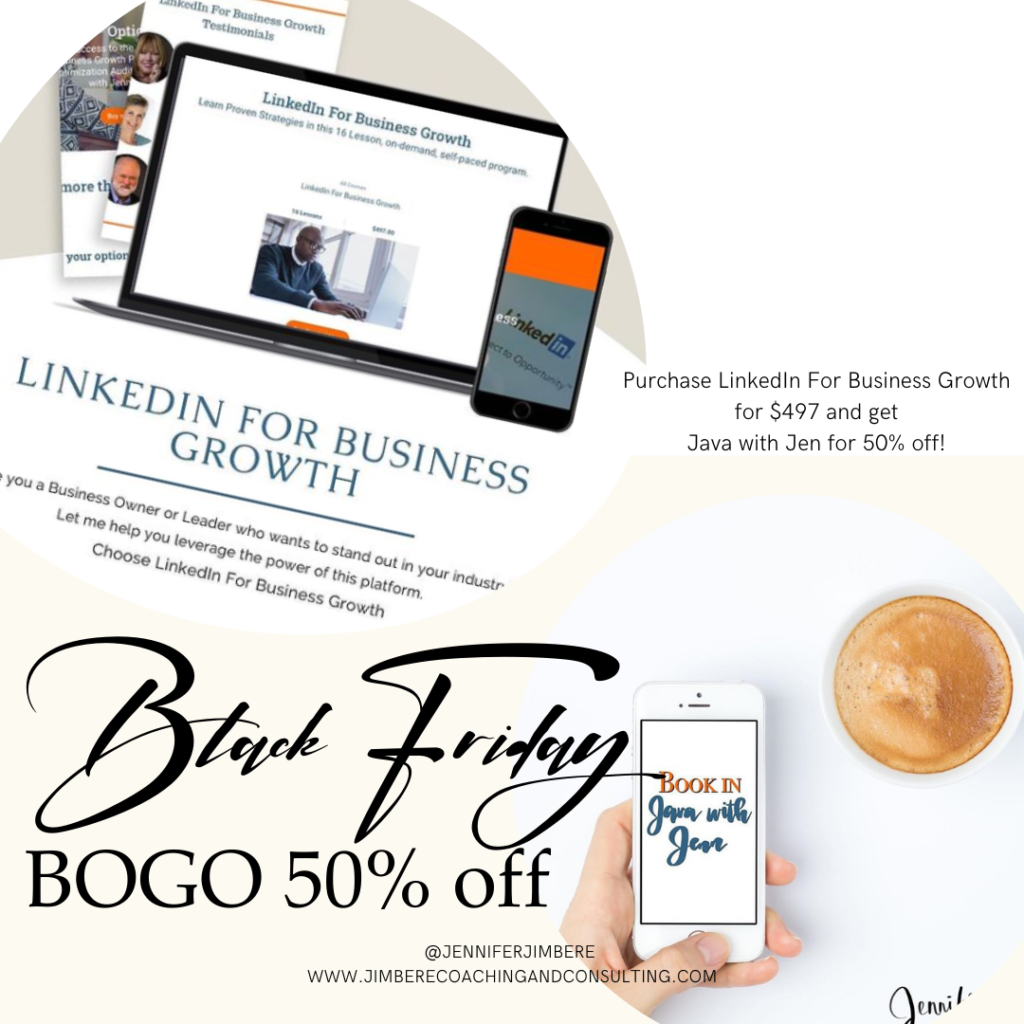 Here are just a few happy clients;

"Before working with Jennifer, I think I was like many solopreneurs … I had a LinkedIn profile and posted occasionally but didn't really know how to optimize the platform. Now after working with Jennifer, she has opened my eyes to the many possibilities of how I can stand out and be noticed on LinkedIn. Having her expert 'eyes' on my marketing was a very wise investment!" ~ Diana Lidstone.

"Jennifer is a creative powerhouse. I had a fantastic, inspiring Java with Jen. I've been contemplating booking a session to discuss my marketing strategy for quite some time. So glad I finally did. Jennifer is amazing at brainstorming and generating ideas. I took almost 10 pages of notes and I couldn't write fast enough, the ideas just kept coming. She's not only excellent at generating marketing ideas, she's also amazing at putting words to those ideas (taglines, slogans, verbiage) in a clean and compelling way. I absolutely love the direction of my new marketing / branding strategy."
~ Monika Younger

Are you a Business Owner or Leader who wants to stand out in your industry? Let me help you leverage the power of this platform. Choose LinkedIn For Business Growth and get a BONUS of 50% off a Java with Jen session. Take advantage of this BOGO offer from now until Friday at midnight EST.


Visit the link below to purchase the program >>> https://jennifer-s-school-654d.thinkific.com
Then email me at jennifer@jimberecoachingandconsulting.com Black Friday BOGO to book in your Java with Jen. DM me for any questions.


Partner with a trusted professional and see what's possible.

What you think is possible, is just the beginning.
I work with highly educated, growth minded, action takers who are serious about their success. Bringing their dreams and passion together, we are actioning on focused plans and welcoming them into their prosperous reality.
A recognized authority on the psychology of performance, negotiations and organizational turnaround. I have served as an advisor to thousands of individuals and organizations around the world for more than 20 years. Nominated in 2020 for RBC Canadian Entrepreneur of the Year Awards, Won 2020 Productivity & Profitability Impact Consultant of the Year (Ontario) by Corporate Vision and have also been named Influence Magazine 100 Authority. Recommended and inducted into the Who's Who of America for 2019.