There is abundance all around you.
Scarcity, suffering and lack are all ego created.
You can disconnect from the script that you have been following and create abundance.
Open and receptive to all good is a choice.
The choice is yours.
I've put together a FREE 5-part video and email series on how to increase your positive emotions.
What creates momentum and builds success is consistency.
Being consistent and showing up every day isn't easy.
I created this series after learning proven, research-based strategies and want to share them with you. 🚀
Optimism is associated with better health, performance, longevity and social success. Positive
Psychology is not about being positive about everything at all costs, it helps to put things into
perspective. Leveraging extensive learning in this discipline I can support you to increase your:
– Optimism
– Gratitude
– Purpose
– Flow
– Values in Action
– Authentic Happiness
Positive psychology can actually help you make meaning of your interactions which will get your brain to a more positive state. You don't have to 'fake it to make it.' To learn more about the Science of Well-Being, reach out so we can partner in possibility. Call 416-939-8645. 🎯
I've adapted the practices from best-selling books on the topic and hundreds of hours studying the field of positive psychology. I have practiced and learned some exercises taught by great teachers in the discipline such as Barbara Fredrickson, Sonja Lyubomirsky, Martin Seligman among others and use the exercises with my coaching and consulting clients.
Thank you for subscribing to my weekly series on the science of well-being. Each video is less than 3 minutes long and created with your personal and professional development in mind.

With your arms wide open, repeat after me, "I am open and receptive to all good!"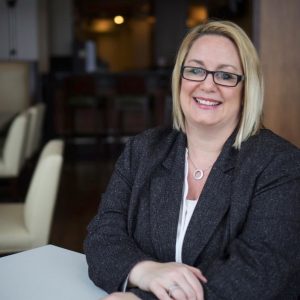 Hi. I'm Jennifer Jimbere. I'm a coach and I create business breakthroughs. For more than twenty years, I've been trying to unlock possibilities, inspire people and teach them how to level up. One day, if we meet, I hope you'll share with me your favourite posts. Even better, I'd like to hear about how a book I've recommended or course helped you interact with the world differently and made a positive difference in your productivity & profitability.
I've spent most of my professional life as a learning and development professional in the Financial Services sector. I've co-authored 2 International bestselling books.
These books are a great way to ignite a spirit of knowing that you are creative, capable, wise and good, and I think will stand the test of time.
Along the way, I've found countless detours, interesting opportunities designed to advise and motivate you as you continue to do your work.
My latest co-authored book is called Dream Boldly I Dare You: Course II: Manifest Miracles on Demand. It's a bestseller.
More than 1,000 people have benefited from my online courses and business breakthroughs including LinkedIn For Business Growth.  
A recognized authority on change management, profitability, and organizational turnaround, I have served as an advisor to thousands of individuals and organizations around the world for more than 20 years. I've been named Influence Magazine 100 Authority. Strategic Learning Alliance recognized me as Certified Professional Coach of the Month for April 2019. My proven strategies have been featured in The Six-Figure Coach, Simply Women, Bella Mia magazines and more. Which is pretty awesome.
Coming soon for the holidays Jimbere Business Academy gift cards!
Don't delay 2020 is right around the corner.
Maintain momentum and make it a great day!
PS, Be sure to join the 2367+ amazing professionals who are part of the JCC Facebook Community where you'll find a ton of useful insights, tips, and original content that is sure to help you succeed! Click here to join.